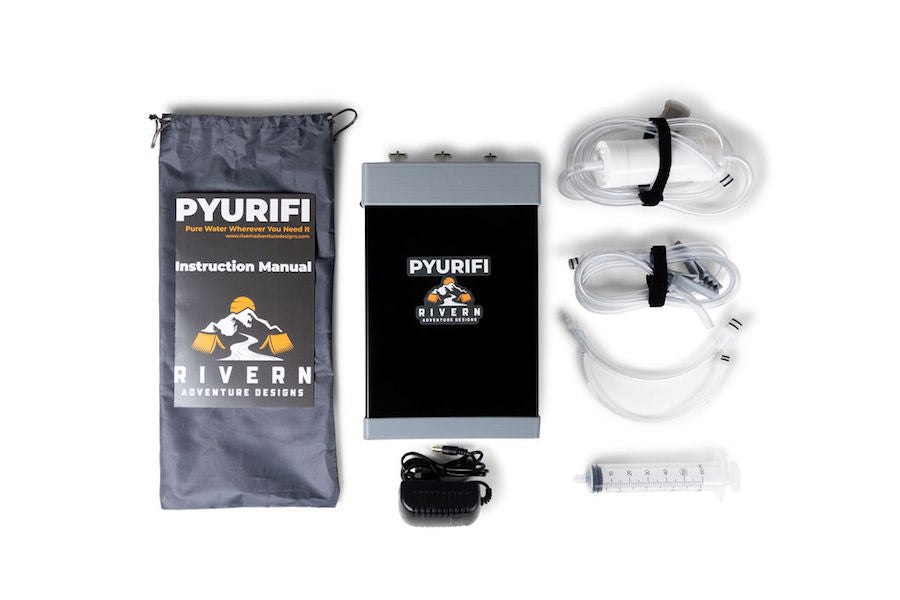 PYURIFI UV Water Filtration System: Effortless Clean Water for Adventures
Description

Shipping

Why Buy From Us
Looking for an effortless solution to filter water during your outdoor adventures? Look no further than Pyurifi! With our cutting-edge technology, you can safely refill your water reserves from almost any source. Our top-notch bacterial, cyst, and virus removal technology, along with a carbon filter, ensures that your water is not only safe but also tastes great.
Pyurifi is a battery-powered electric water filter that includes a UV water sanitizer and purifier, making it perfect for river rafting expeditions, overland camping, and van camping. It's compact, weighing less than 5 lbs, and as small as a lunchbox, so you can take it wherever you go. Plus, with a 99.99%+ reduction rate, it's the ultimate solution for those who want to stay hydrated while enjoying the great outdoors.
Here are some technical details about Pyurifi:
Weighs less than 5 lbs

Makes 1 Liter per minute and produces 40 gallons of water on a single charge

Electric water filter with UV water sanitizer and purifier

Top-notch bacterial, cyst, and virus removal technology with carbon filter

Compact and portable, perfect for river rafting expeditions, overland camping, and van camping

Reduction rates of 99.9999% for bacteria, 99.99+% for cysts and viruses
Don't let water filtration hold you back during your next outdoor adventure. With Pyurifi, you'll have access to clean and safe drinking water no matter where you are. And with the ability to produce up to 40 gallons of safe drinking water on a single charge, you won't have to worry about running out.
Invest in Pyurifi today and enjoy the freedom to explore the great outdoors with ease. Whether you're looking for a water filter system for your river rafting expedition, overland camping trip, or van camping adventure, Pyurifi has you covered. Say goodbye to hand-operated filters and hello to effortless water production. Try Pyurifi today and see the difference for yourself.
Shipping is FREE on all orders to customers within the USA.
We don't want to mess around with fine print and extra charges, we like things to be simple and easy.
Want to know about our Returns Policy? Read more here.
Order Confirmation:
As soon as you place your order you will receive an order confirmation e-mail. This means that we have received your order in our system and pre-authorised your credit card for the purchase.
As soon as we receive your order we automatically check to confirm that your order is in stock and available for immediate shipment. If your item is on back-order or unavailable we will void the pre-authorisation and reach out to you via e-mail to see if alternate arrangements can be made.
If your item(s) are available for immediate shipment (within 5 business days) we will process the charges and get to work preparing your order for shipment.
Order Shipment:
If your order is in stock and we process the charges to your credit card it will ship within three business days from the date of your order.
We will send you shipping confirmation within 24 hours of your order leaving the warehouse to the e-mail address you provided when checking out.
If you do not receive shipping confirmation from us within four business days of your order feel free to follow up with us at support@excursionwarehouse.com.
International Orders:
Please be aware that our products are made specifically for the U.S. market. This means that they require a 110V electrical system to function correctly.
Our products have generally not been certified for use with other countries electrical safety standards but all of our products are certified to U.S. standards.
We will happily ship our fantastic products to international customers. Due to the extremely wide variety of product dimensions we will provide an up to date shipping price quote for you on request.
If you are happy with our shipping quote we will prepare an order and payment though our ultra secure online payment gateway.
Damages:
Please inspect the packaging of your item(s) when they arrive, if you notice any damage you should make note of it when signing for delivery or do not agree to accept the delivery.
If you do accept delivery you are required to immediately take photos using your smart phone or camera of the damaged packaging or products inside the packaging.
If your item(s) do arrived damaged please send photos to support@excursionwarehouse.com, then visit our Returns page and lodge your return claim online.
We get it. You've got a lot of choice when it comes to online retailers. Here's why we think you should shop with us at Excursion Warehouse.
Free Shipping USA wide. No extra charges. Ever.

Price Match Guarantee. Best prices online guaranteed.

30 Day Easy Returns. No happy with your product, we'll take it back no questions asked.

Great Service. We pride ourselves on the best service, anywhere.

Your Satisfaction Guaranteed. We handpick our products for quality, we know you'll love them. But is there is ever something wrong, we'll fix it.